German Spaniel | Wachtelhund litter X – Kastor & Czakra
We have a litter of German Spaniels (wachtelhund) born on 6.01.2019.
The parents of the litter are: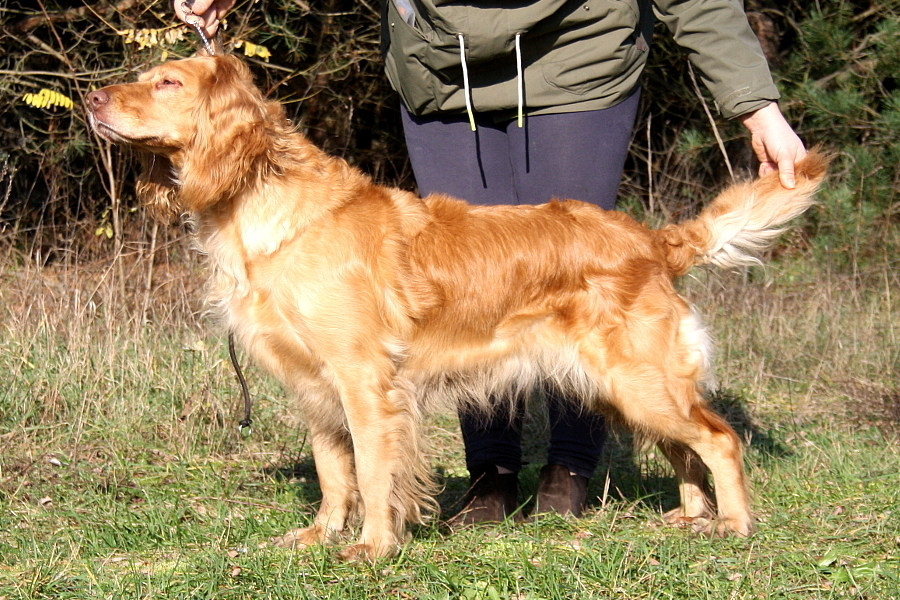 CZARKA od Vicenickeho potoka
Both parents exhibit excellent health, backed by certificates and health tests. They present a strong character typical of the breed. Excellent work ability, tested in multiple competitions and most of all during day to day hunting. Both parents have a great exterior build, which has been praised by international judges during major dog shows. They are easy to train and handle.
(S Justus von der Gohrde & Xenia Weidelsburg)
Kastor is an excellent representative of his breed. He is a calm and balanced 6-year-old stud dog. He is both Junior Champion and Champion of Poland, but above all, just a really well-rounded hunting dog with a wonderful German work pedigree. Kastor proves his work predisposition not only during hunts, but also during blood tracking and flushing competitions in which he routinely receives 1st degree diplomas, and has even received a motion for his Work Champion. He has also completed field trials with a 1st degree diploma. Kastor is free from hip dysplasia with the best possible results: HD A/A.
More about Kastor: HERE
Czarka od Vicenickeho potoka
(Paris z Cerchovky & Aki Sobeticky Revir)
Czakra comes from the Czech republic from wonderful working and exterior lines. She is a valuable dam both from the breeding perspective and for exhibiting excellent working predisposition. She managed to become the National Work Winner at just under 12 months, outcompeting dogs much older and more experienced than her. She scored full marks at the National Multilateral Hunting Dogs Trials. Czakra exhibits great passion for work, with a steady, far retrieval, wonderful contact with her handlers and a great even sounding bark. Her proper build results in good motor movement which in turn translates to endurance during work. Czakra is champion of Poland. She has her hips and elbows tested with the best possible results: HD-A and ED 0:0. She is in full cardiovascular health backed by international certificates.
Czakra passes on her work predisposition, her excellent health and proper build. She is mother to excellent working offspring such as our:
URTICA Bractwo Łowieckie.
More about Czakra HERE.
Both Czakra and Kastor are healthy, tested dogs. Czakra's heart health is backed by an International Cardiovascular certificate with the following results: healthy heart, no abnormalities. Both parents are free of hip and elbow dysplasia with the best possible results: HD-A. Czakra boasts a wonderful elbow score of ED 0:0. All results from trials, competitions, shows as well as health certificates leave us assured that puppies from this litter will have superb working predispositions along with a proper, healthy build. Future owners can rest assured that along with the dog they will get professional help in training a hunting flushing dog. Please contact us directly if interested in a puppy from this cross:
tel. +48 501 595 302
slavinjaweims@gmail.com