German Spaniel | Wachtelhund litter W – Jasper & Hańba
Puppies already with us! Litter born on 16/04/2020. We have 6 boys and 5 girls.
If you are interested in a puppy from this cross, please feel free to contact us!
The parents of the litter are: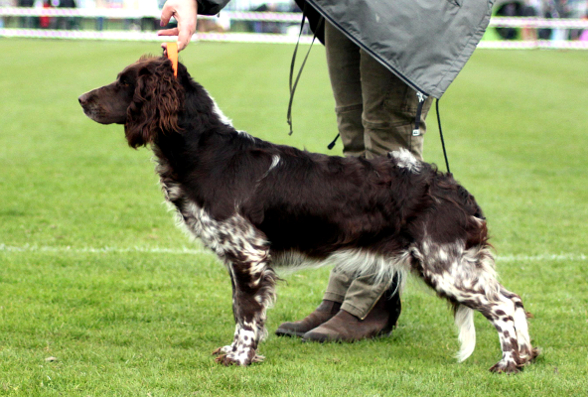 URTICA Bractwo Łowieckie "Hańba"
The parents of this litter are fully healthy, backed with official veterinary certificates and tests. Both are very strong representatives of their breed. They exhibit fantastic work predisposition, tested during numerous competitions and trials. Awarded in many international shows, both parents exhibited excellent exterior qualities. We expect the puppies to be easy to train and make for great companions both at home and during hunts.
(Jasper von Dreiannen & Lady von der Huht)
Jasper is a great example of his breed. On top of a great head, proportional to the body, and wonderful coat he has a truly fantastic temperament. He's also the Czech Champion, Junior Czech Champion and also Czech Junior Club Winner. Most of all Jasper is a true hunting dog, fierce during work and unchallenged during competitions. He boasts completing several 1st level diplomas with top places. A truly versatile dog, he is competitive in a variety of terrain, both water and marshland as well as field and forest, all proven by his junior tials – ZV, field trials – PZ, forest trials – LZ, bloodtracking trials – BZ and water trials – SVP. He is free from hip dysplasia with the best possible results HD A/A.
URTICA Bractwo Łowieckie "Hańba"
(TOM vom Hahnenkamm & CZAKRA od Vicenickeho Potoka)
Hańba is a 4-year-old, very temperamental dame. She stands apart from other Wachtelhunds in her excellent movement and dynamics during work. She's agile and cunning, making easy work of retrievals, predators included. She's got a sounding bark, and is very eager to work on a warm trail. She's confirmed her working abilities many times during hunting competitions in Poland and abroad. She's Champion of Poland, Junior Champion of Poland and has taken part in Hunting Trials for small hunting breeds. She's very healthy and in great condition. She has her heart tested and backed with an international cardiological veterinary certificate. She's been tested for hip and elbow dysplasia with the best possible results: HD A/A, ED 0:0. She's also tested negative for OCD.
All results from trials, competitions, shows as well as health certificates leave us assured that puppies from this litter will have superb working predispositions along with a proper, healthy build. Future owners can rest assured that along with the dog they will get professional help in training a hunting flushing dog. Please contact us directly if interested in a puppy from this cross:
tel. +48 501 595 302
slavinjaweims@gmail.com