Weimaraner SH 'B' litter – Lucas & Szelma
6 males i 7 females.
d.o.b. 9.09.2021r.
Our litter "B" pedigrees include generations of working champions and versatile hunting dogs, but most of all, dogs with well balanced characters and a cheerful temperament.
Slavinja Huniemir "Lucas"​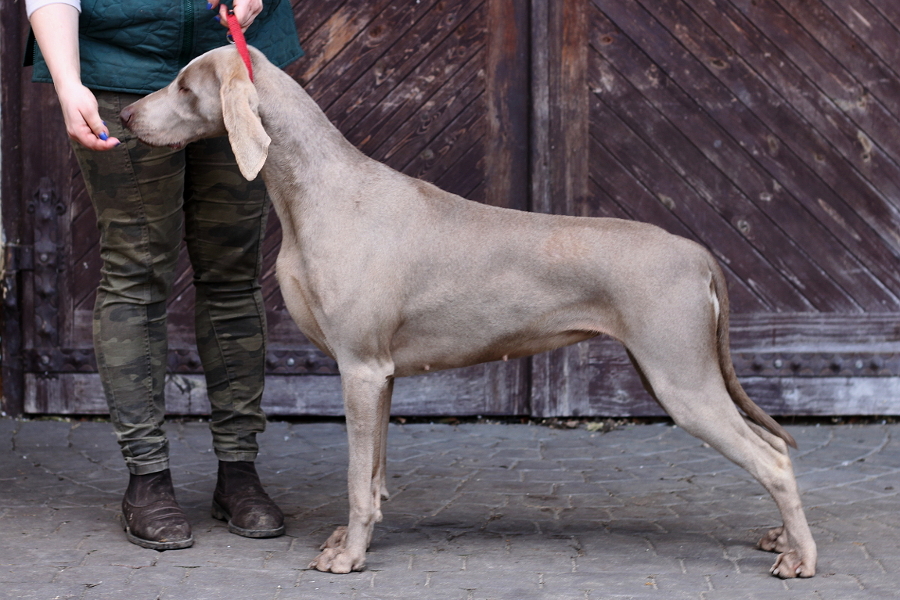 Slavinja fci Jarzębina "Szelma"
Rodowód miotu 'B' to pokolenia championów pracy, wszechstronnych psów pracujących, ale przede wszystkim psów o dobrych zrównoważonych charakterach i pogodnym temperamencie.
Slavinja Huniemir "Lucas"
(Southpaw Duet with Hunsweimaraner & Slavinja SZABORA)
The father of the litter comes from our kennel – Slavinja Huniemir "Lucas". Lukas is a young stud dog coming from an excellent cross. Lucas' father, Southpaw Duet with Hunsweimarnaer aka. "Hunor", is imported from the U.S. and currently living and hunting in Hungary and the mother is our versatile Slavinja Szabora aka. Helga. Lucas is a dog with a great, cheerful and balanced character, very open and sociable. Of course, he is also a working dog, characterized with a huge passion for work. He is a medium sized dog, with a strong build, good proportions, beautiful head and a rare, very dark coat pigment. When working he is fast, agile and has very good endurance. He has a good sense of  wind, a confident point and proper retrieval. He is a moderately temperamental dog, easy to train and a very fast learner. In his pedigree you will not encounter a dog whose high quality of work has not been confirmed by results from competitions, and most of his ancestors can boast of achievements from competitions of the highest rank as well as numerous championship titles.  More about Lucas…
Slavinja fci Jarzębina "Szelma"
(Slavinja Niepełka x Pepe Elika Bohemia)
The mother of these puppies is our Szelma – Slavinja Jarzębina. Szelma comes from the mating of the Czech Champion of work – Pepe Elika Bohemia and our Niko – Slavinja Niepełka. Szelma is a very cheerful, calm and obedient young weimaraner. She is easy to train, willing to cooperate with her handler and follow instructions very quickly. She is a typical representative of the breed, very attached to her one and only handler that she so adores. Szelma is a medium sized Weimaraner with good bone structure, a, silvery coat and a beautiful head. She is a healthy, fully tested dog, which is confirmed by numerous veterinary certificates. More about Szelma…
Lucas and Shelma are balanced dogs, easy to train and lead. Obedient and problem free in everyday life and indispensable companions during hunts.. They have all the veterinary examinations required by the FCI as well as additional ones confirming their good health. Both dogs are tested for hip dysplasia: HDA and elbow dysplasia: ED0:0, the best possible results. Eyes and heart checked, tests are confirmed by International veterinary health certificates with the following results: healthy, free from any abnormalities. They have also been tested for genetic diseases found in the breed.
If You would like to know more about, contact us please: